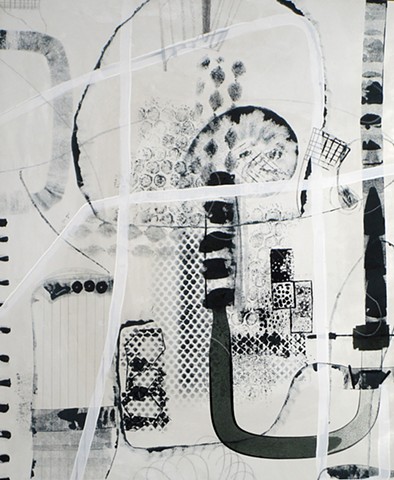 My work "Allegretto", acrylic painting on gallery-wrapped canvas, 46"Hx38"W was chosen for The de Young Open 2023! Show Dates: September 30, 2023-January 7, 2024. More than 7,700 entries were submitted, and fewer than 900 made it to the final selection. For more information, tag @deyoungmuseum and #ThedeYoungOpen. email donnaormeart@aol.com. Follow me on Instagram at donna.orme.art and Facebook.com/DonnaMOrme.


ARTIST STATEMENT
I allow obscure thoughts and feelings to emerge into forms which are then expressed in art pieces. My daily practice revolves around creating mixed media, oil and cold wax, acrylic and printmaking (monotype, monoprint, collagraph and lithography) artworks. The images incorporate an interplay of space, color, circles and lines. Being in my imagination allows me to think freely.
Oil mixed with cold wax is applied to wood cradled boards or Arches oil paper. Drawing or painting with pigment sticks help build up the layers. Scraping through the multiple layers of paint can reveal delightful surprises. The oil-based monoprints and monotypes are produced on aluminum plates submerged in a copper sulfate solution. Images appear in reverse on the plates. After ink is applied to the plate, BFK damp paper is placed over the image and pulled through a press. Acrylic gels/mediums and textural materials are glued to Styrene or Polycarbonate plates to make collagraphs. Chine collé papers are used to add color, rhythm, texture and mood to the images. For the acrylic monotypes, pigment is applied directly to multiple Clearbag plates. Layers of paint can be viewed from the back side of the plate to see the development of the image. I visualize what will show as the first layer versus the additional layers when the monotype is pulled from the plate without using a press. Working spontaneously and intuitively, my mind is absorbed in the process and I can no longer speak. Lost in thought, my actions dominate the moment.
The composition of my work is contemporary in feeling. Producing nonobjective art requires that one be articulate about the simplicity or complexity of line. My art is playful and has a sense of rhythm and energy that is design oriented. The finished product is a spontaneous expression of thought and emotion. At the end of a workday, I find myself in a state of warm tranquility. The images reflect emotions or thoughts from the day they were created.